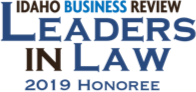 Born and raised in northern Idaho, Briana loves spending her weekends at the St. Joe River where she can unplug and escape cell service. When she's not camping or enjoying the outdoors, Briana finds countless ways to add value to the firm and its clients as practice administrator. She received the Unsung Hero award through the Idaho Business Review's 2019 Leaders in Law awards program.
A perpetual learner, Briana graduated with a degree in paralegal studies and certificate of office technology from North Idaho College. She is currently attending Lewis-Clark State College to obtain her bachelor's in Business Administration with a minor in leadership. Prior to joining Smith + Malek, Briana worked as a legal assistant for more than five years.
What are you currently reading?
"Six of Crows." It's for my book club. I'm not capable of leaving a book unfinished.
What's your favorite book of all time?
I don't have just one. Though I have read the "Outlander" series through a couple of times, which is quite the feat.
If you weren't in the legal profession, what would you do?
I have always found the idea of being a flight attendant intriguing.