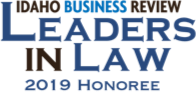 Cora is licensed to practice law in the state of Washington and Idaho where she primarily practices in business and real estate law. She graduated from Gonzaga University School of Law summa cum laude in 2013. She received her undergraduate degree from Washington State University summa cum laude in 2010.
Cora joined Smith + Malek in 2019 after working as a transactional attorney in Spokane, Washington. She was awarded the Business Rising Star from the Spokane Business Journal, and in 2019, was named among the Idaho Business Review's Leaders in Law. When she's out of the office, Cora volunteers with the Junior League and the YMCA of the Inland Northwest. Cora serves as the 2020 president of Washington Women Lawyers and is an adjunct professor at Gonzaga University Law.
Cora and her family live in North Idaho with their crazy Goldendoodle puppy, Kona, who runs the household. In her free time Cora enjoys reading with her husband and young daughter.
What are your goals for the future?
To build a better world for my daughter to thrive in, and leave a legacy for her that she can be proud of.
What's your favorite quote? 
"There's no crying in baseball." – Tom Hanks
What is your all-time favorite book?
"The Last of the Really Great Whangdoodles" by Julie Andrews