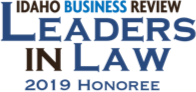 Peter is licensed to practice law in Idaho and the Ninth Circuit where he finds great accomplishment in helping people by reducing conflict and providing clarity. Peter practices in the areas of business law and real estate law. Peter has argued cases before the Idaho Supreme Court and the Ninth Circuit Court of Appeals (Smith v. Obama et al., 816 F.3d 1239 (2016)). Peter has tried numerous bench and jury trials.
Peter was born and raised in Sandpoint, Idaho. He attended Walla Walla University and graduated with a degree in International Business. After college, Peter attended Pepperdine University School of Law.
Upon graduating in May of 2004, Peter went to work as an associate attorney at the firm of Lukins & Annis, P.S. in Coeur d'Alene. Peter made partner at Lukins & Annis in 2009. He serves as the Director of the Boys & Girls Club of North Idaho, Idaho College Foundation, Inc., and the Schweitzer Alpine Racing School.
In 2015, Peter founded Smith + Malek with his good friend, Luke. Peter is married and has 3 children. In his spare time, Peter enjoys running, biking, skiing, and golf.
What's a life goal you've yet to accomplish?
Arguing a case at the US Supreme Court.
What's your all-time favorite book?
"The Goldfinch" by Donna Tartt.
What are you currently reading?
"Start with Why" by Simon Sinek.