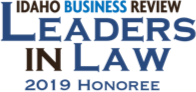 Peter is licensed to practice law in Idaho, Washington, the Ninth Circuit, and the Court of Federal Claims. He finds great accomplishment in helping people by reducing conflict and providing clarity. Peter practices in the areas of business, real estate, litigation, and appeals. Peter has argued cases before the Idaho Supreme Court and the Ninth Circuit Court of Appeals. Peter has tried numerous bench and jury trials.
Peter was born and raised in Sandpoint, Idaho. He attended Walla Walla University and graduated with a degree in International Business. After college, Peter attended Pepperdine University School of Law.
Upon graduating in May of 2004, Peter went to work as an associate attorney at the firm of Lukins & Annis, P.S. in Coeur d'Alene. Peter made partner at Lukins & Annis in 2009. In 2015, Peter founded Smith + Malek with his good friend, Luke. He is a former President of the Post Falls Rotary and a current member of the Coeur d'Alene Sunrise Rotary. On March 9, 2021, Peter was appointed to the Idaho Lottery Commission by Governor Brad Little. Peter is a former Vice Chairman of the Post Falls Urban Renewal Commission as well as an at-large member of the Idaho State Bar Real Property Law Section and Indian Law Section. Peter has served as President of the First District Bar Association and been recognized for pro bono work by the Idaho State Bar. Peter currently serves as the Vice President of the North Idaho College Foundation, Inc., treasurer of Schweitzer Alpine Racing School, Inc. and is on the Board of Directors of Gizmo CDA, Inc.
Peter has handled many different types of matters during his career. In litigation matters, Peter has:
Sued the President of the United States related to the unconstitutional collection of phone records by the National Security Administration.
Litigated many cases to establish easement rights.
Enforced the right of the Coeur d'Alene Tribe to regulate docks on the southern part of Lake Coeur d'Alene in both State and Federal Courts.
Defended a homeowner's association in a claim of religious discrimination (which is the subject of a documentary made by Apple TV).
Handled many cases relating to breaches of contract, debt collection, and commercial disputes both in State and Federal Courts.
Prosecuted and defended land use appeals.
Pursued property tax appeals in State Court and the Idaho Board of Tax Appeals.
In the transactional realm, Peter has:
Drafted Declarations of Covenants, Conditions and Restrictions, Development Agreement between municipalities and developers, Purchase and Sale Agreements, and many easements.
Prepared merger and acquisition documents, including Asset Purchase Agreements and Stock Purchase Agreements.
Written Operating Agreements for Limited Liability Companies and Membership Interest Agreements.
Crafted ban documents for secured and unsecured transactions.
Assisted in the formation of a dental insurance company.
Prepared medical and dental employee agreements and ownership structures.
With this wide breadth of experience, Peter is able to provide advice with the knowledge of how to close a transaction and deal with litigation.
Peter is married and has 3 children. In his spare time, Peter enjoys running, mountain biking, skiing, and golf.
What's a life goal you've yet to accomplish?
Argue a case at the U.S. Supreme Court.
What's your all-time favorite book?
"A Confederacy of Dunces" by John Kennedy Tool
What are you currently reading?
"Prisoners of Geography" by Tim Marshall.