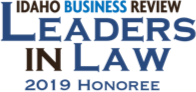 Tara is an Idaho licensed attorney practicing in state and federal Court in business and commercial litigation. Tara has experience in both civil and criminal law. Previously, she worked as a Kootenai County Deputy Prosecutor, a Special Assistant United States Attorney, and an Assistant United States Attorney at the United States Attorney's Office in Boise. She is now the Chief Litigator at Smith + Malek as well as co-owner. One of Tara's biggest career accomplishments is a reversal of a jury verdict in federal court that is now on appeal at the Ninth Circuit.
Tara was born in England, but she grew up in Washington State and Arizona. She holds a B.A. in political science from the University of Arizona in Tucson, and she moved to Idaho in 2008 to attend the University of Idaho College of Law, where she met her husband, Luke Malek. She graduated with her J.D. in 2011.
In 2018, the Idaho Business Review named Tara among Idaho's Women of the Year honorees, in 2019, she was named among the publication's Leaders in Law and in 2021 she was named as a Top 30 Under 40 winner by the Kootenai County Young Professionals. "My personal "why" is the pursuit of justice. I chose a career in law because lawyers have the ability to change the world for the better and to pursue justice on behalf of our clients." says Tara.
Tara is dedicated to the communities in which she works and lives. When she is not in court, she serves on a number of boards including CASA (Court Appointed Special Advocates), Your Health Idaho and the University of Idaho Law Advisory Council. In her free time, Tara enjoys volunteering in the community, backpacking, hiking, and fly-fishing with her husband, Luke Malek.
What is your hope for the future?
Worldwide gender equality.
What are you currently reading?
I usually read several books at the same time: "The Happiness Advantage," "Furious Hours," "A Curve in the Road," "The Six Wives of Henry VIII."
Why Smith + Malek?
To change the world.