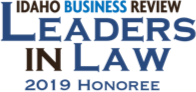 Caitlin is licensed to practice law in both Idaho, Utah, Washington, and Wyoming, and primarily focuses on healthcare, telecommunications, and business law. Caitlin grew up in the Northwest and attended Whitworth University, followed by Gonzaga University School of Law, where she graduated cum laude in 2013.
Caitlin joined Smith + Malek in 2017 after working as an insurance defense attorney in Spokane. Caitlin volunteers for the Dalton Gardens Planning and Zoning Commission, as well as the local fire department where her husband is a firefighter. In 2018, Caitlin was named among the Top 30 under 40 by Kootenai County Young Professionals, and she's one of the Idaho Business Review's 2019 Leaders in Law.
Caitlin and her family live in Dalton Gardens with their horses, dogs, and a cat. All of her pets are named after Top Gun characters. In her free time, Caitlin enjoys riding her horses, hiking, and fly-fishing.
What's your favorite quote? 
"Listen to understand, not to reply." – Unknown
What's a life goal you have yet to achieve?
Owning a cattle ranch.
What do you do first thing in the morning?
Hit the snooze…but only twice.